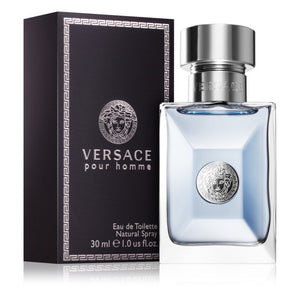 Versace Pour Homme EDT 同名經典男士淡香水 30ml/50ml/100ml/100ml Tester
HK$210.00

HK$210.00

Save HK$240
---
---
Dynamic and entrepreneurial, the Versace Pour Homme man communicates his forceful and passionate character through a decidedly masculine fragrance. Top note: The heart of Versace Pour Homme is defined by its almost tactile mineral-floral aroma of clary sage and blue hyacinth. Middle note : A deep impression of incisive and seductive notes comes from cedar wood and agar wood. Base note: Amber and musk deliver deep and sensual base notes, the essence of pure masculinity.

Top note: lemon, neroli, bergamot and rose de mai
heart note: hyacinth, clary sage, cedar and geranium
Base note: tonka bean, musk and amber.
Versace Pour Homme 的香味比較輕柔,更適合辦公室的環境和初用香水者,使用的人可以按自己的喜好,塗抹重要部位,這種香水適合在上班和日常時候使用。范思哲Pour Homme 經典男香是專為男士設計的新款香水,該香水源自地中海的基本配料,其芬芳的香調展現當今男士的特質:睿智、自信,能夠在大自然中和諧愜意地生活。選擇范思哲Pour Homme 的男士充滿活力、具有開拓精神,用真正的男士香水展示著力量和熱情。

前調: 檸檬,橙花,佛手柑和玫瑰谷地
中調: 風信子,鼠尾草,雪松和天竺葵
基調: 黑香豆,麝香和琥珀
---
We Also Recommend