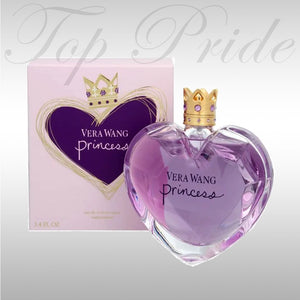 Vera Wang Princess EDT 薇拉公主女士淡香水100ml
HK$260.00

HK$260.00

Save HK$320
---
---
Vera Wang Princess Perfume will make a lovely addition to your collection with its light blend. It includes a mixture of water lily, apple, mandarin meringue, golden apricot skin, dark chocolate, amber, musk and vanilla. It comes in an elegant bottle that will stand out on shelves and countertops. t will make a sweet gift for a friend or loved one who enjoys wearing perfume during the day.
Top note: water lily, apple, freshly-sweet mandarin, apricot.
heart note: guava, Tiare flower, tuberose, dark chocolate
Base note: vanilla, amber and wood.
Vera wang princess展現了唯美的附庸風雅與大膽無懼的態度,出色的英勇幻化成銷魂的迷人魅力,自信果決加上與生俱來的勇氣,大膽的調情賣弄展現女性自由、風趣,和聰穎。
外包裝想一個心形的護身符,象徵著魔法的魅力與力量,刻花玻璃的香水瓶子的切割面,是香水完美閃耀著象徵皇族氣質的紫色光芒。每一位公主都擁有自己的珠寶,香水瓶身上特意搭配了珠寶飾品的皇冠形瓶蓋,瓶蓋下方鑲有一條金色的紀念絲帶,與上面鑲嵌的紫水晶的光芒相互輝映。
前調: 睡蓮,蘋果,甜橙,杏子
中調:番石榴,Tiare花,晚香玉,黑巧克力
基調:香草,琥珀和木頭 
---
We Also Recommend