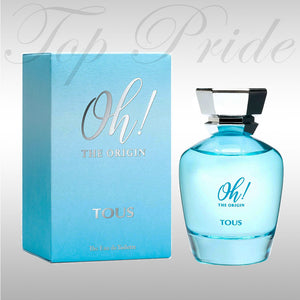 Tous Oh! The Origin EDT 淘氣小熊 - 撩心女士淡香水50ml
HK$290.00

HK$290.00

Save HK$270
---
---
The refreshing and soothing floral scent is as calm as the ocean, recalling different beautiful memories with your love one.
Romantic inspiration: to celebrate different beautiful moments with this delicate floral scent, this fragrance is elegant and joyful.
Scent complexion: the sparkling citrusy is refreshing and approachable, layering with the romantic roses, based with the woody notes, which are complicated but harmonious.
Delicate bottle design: as blue as the ocean, the curvy round-shaped bottle is shining and shimmering, so smooth and delicate.
Top Notes: Pear, Wild Rose, Green Bergamot
Heart Notes: Cedar Wood, Turkish Rose
Base Notes: Benzoin, Vanilla
Tous的Oh! The Origin Eau de Toilette是一款在2020年推出的花香型木質麝香調的女用香水。  這款香水的調香師是Mathilde Bijaoui。
前調 : 青橘, 野玫瑰(薔薇) 和 梨;
中調 : 土耳其玫瑰(薔薇) 和 雪松;
基調 : 安息香, 檀木 和 香草。 
---
We Also Recommend