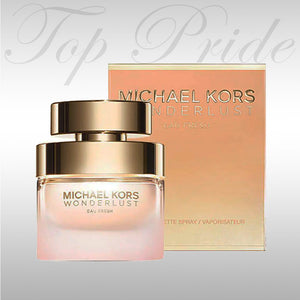 Michael Kors Wonderlust EDT 邁克·科爾斯 隨心所欲女士淡香水50ml
HK$420.00

HK$420.00

Save HK$430
---
---
Michael Kors Wonderlust Eau Fresh, the new fragrance from Michael Kors, carries a sense of endless possibilities. This Eau de Toilette is a flanker of the original Michael Kors Wonderlust, inspired by the escape of everyday life and new adventures.
"Wonderlust Eau Fresh embodies passion for adventure and new experiences, the desire to take advantage of the possibilities and the knowledge that everything is possible," says Michael Kors.
Awaken your senses with a youthful blend of vibrant citrus, appealing floral and the warmth of the woods. At the top, a touch of grapefruit releases a peppery citrus that lingers in the aroma. The luxuriant petals of white peony evoke lightness, while Pamplewood deepens the citrus effect while soft woods add dimension to the base.
Top notes: Italian bergamot, honey pomelo, Gray Smith apple
Heart: sambac jasmine, white peony, lily of the valley
Base: Pamplewood®, Musk, Sandalwood from Ceylon
Michael Kors 邁克·科爾斯 隨心所欲女士香水一直以來以簡約明朗的設計風格而著稱,設計師將美式的實用設計風格與歐洲的經典款式融合,打造出優雅隨性,時髦華麗的獨特魅力。 隨心所欲女士香水為當代女士設計,散發辛香甜美,溫和舒適的乳香氣息。
香水香調:東方花香調
前調:杏仁、香檸檬、粉紅胡椒。
中調:天芥菜、茉莉、康乃馨。
後調:安息香脂、檀香木、開司米木。 
---
We Also Recommend