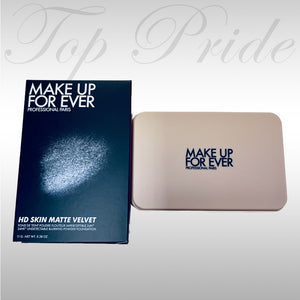 Make Up For Ever HD Skin Power Foundation Cool Alabaster 玫珂菲高清柔霧粉餅 #1R02 11g 瑕疵品
HK$260.00

HK$260.00

Save HK$180
---
---
Defect Products : Box Damaged, Unused
瑕疵品: 外盒起皱,未用過
If you liked Matte Velvet Skin, you'll love HD Skin Powder Foundation.! Co-created with our team of make up artists, our compact foundation gives you a matte finish & blur in only one swipe while being totally
undetectable. 
To support you in you daily life, our powder is also water-resistant, sweatproof and smudgeproof*.
It covers in only one swipe redness and freckles. It also refines the pores and uniforms skin texture : you can build it to achieve medium to full coverage.
The silky-smooth formula of our compact foundation works well when layered with other skincare products so it can be directly applied after your moisturizer or primer, and it won't patch or crease
如您喜愛柔霧空氣粉餅,您也會愛上全新HD SKIN高清柔霧粉餅!與一眾專業化妝師聯手研製,只需一抹即時塑造高效修正及柔焦效果,同時做到隱形不着痕跡。
這款粉餅有效24小時*持續修正、柔焦及維持啞緻底妝。
無論您是中性、混合還是油性,HD SKIN高清柔霧粉餅都是您的不二之選。
作為您生活上的後盾,這款粉餅同時提供抗水、防汗及防暈染功能*。
只需一抹遮蓋泛紅及雀斑。它亦有效修飾毛孔及均勻膚色:您也可堆叠遮瑕度,做到中至高度遮瑕。
其絲滑配方能用於護膚產品上,塗抹保濕霜或底霜後,即可使用粉餅,不會出現斑駁或粉痕。
---
We Also Recommend