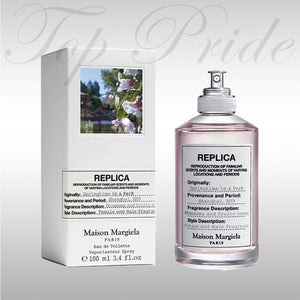 Maison Margiela Replica Springtime in A Park EDT馬丁馬吉拉春日公園淡香水30ml/100ml
HK$430.00

HK$430.00

Save HK$290
---
---
Springtime in a Park captures the gentle light and fresh floral atmosphere of a nice and romantic Spring afternoon at the park. Blossoms appear everywhere and nature is calling us.
It is a delicate perfume composed of fresh and fruity scents of pear notes and blooming Lily of the Valley accord mixed with a enveloping white musks.
The perfect scent to recreate the floral atmosphere of the first days of Spring.
Flowers bloom under the spring sunshine, with their delicate palette of colors and smells joining the fragrant conversation. Surrounded by a floral atmosphere, the park bench invites you to a temporary rest from the urban life.
Top notes: Pear Accord, Bergamot Essence, Blackcurrant Accord
Middle notes: Lily of the Valley Accord, Jasmine Grandiflorum Absolute, Rose Damascena Absolute
Base notes: Musks, Vanilla Accord, Ambrox
馬丁·馬吉拉春日公園淡香水中性淡香水猶如沐浴在春天的下午,公園裡,到處都盛開著鮮花,大自然似在呼喚我們。在百花盛放的公園裡重溫漫步的回憶。
春日公園香水由新鮮水果味的梨味和盛開的山谷百合花香與包圍的白麝香組成,重現春天初期的花香氣息。
前 味:佛手柑、黑加侖、檸檬
中 味:山谷百合、香葉草、錦緞玫瑰
後 味:麝香與香草  
---
We Also Recommend