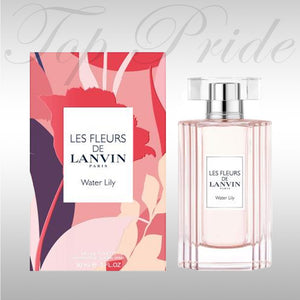 Lanvin Les Fleurs Water Lily EDT 浪凡睡蓮女士淡香水90ml
HK$320.00

HK$320.00

Save HK$330
---
---
Les Fleurs de Lanvin is a Collection which inspires escape. Water Lily is a romantic bouquet, a fruity aquatic floral fragrance with a calming effect. The fresh accord of pink water lily mingles with a zesty duo of citrus fruits to lend sparkle to lively, modern pomegranate. The subtle facets of water jasmine form the heart of the bouquet. A signature feature of Lanvin fragrances, musks create an unforgettably tender trail.
Top notes are Pink Grapefruit and Pomegranate.
Middle notes are Water Lily and Water Jasmine.
Base notes are Musk and Sandalwood.
前調就像雞尾酒中的小氣泡,熱情的柑橘類水果散發著馥郁的二重奏,為生氣勃勃的石榴增添活力。隨之而來的花香中調綻放著淡雅的水茉莉及鈴蘭香氣。最後以沉穩的雪松和檀香木揉合輕柔的麝香作結,溫柔氣息餘韻繚繞。 
---
We Also Recommend