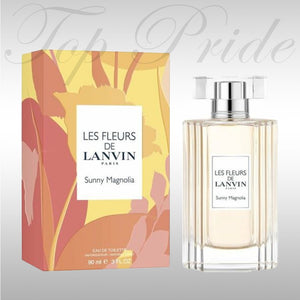 Lanvin Les Fleurs Sunny Magnolia EDT 浪凡豔陽木蘭女士淡香水90ml
HK$320.00

HK$320.00

Save HK$330
---
---
Les Fleurs de Lanvin is a Collection which inspires escape.
Sunny Magnolia is a luminous bouquet, a fruity floral fragrance with a bright and energising effect.
The radiant magnolia accord creates a soft and sparkling balance. Fresh and zesty mandarin meets apricot and magnolia blossom mingles with ripe peach. A signature feature of Lanvin fragrances, musks make the fragrance truly enticing.
Top Note: Mandarin, Apricot, Cosmos
Heart Note: Jasmine Absolute, Magnolia, Osmanthus
Base Note: Sandalwood, Vanilla, White Musks
前調以甜美的杏桃蜜餞揭開序幕,混合清新及熱情的柑橘香氣。成熟的桃子沐浴在玉蘭花迷人的香氣中,迸發出清雅的中調。基調的麝香帶來細膩的羊絨質感,舒適的木質香氣和美味的香草芳香撲鼻而來,散發著令人難以抗拒的愉悅氣息。
前調 : 杏 和 橘子;
中調 : 中國桂花 和 茉莉;
基調 : 香草 和 白麝香。 
---
We Also Recommend