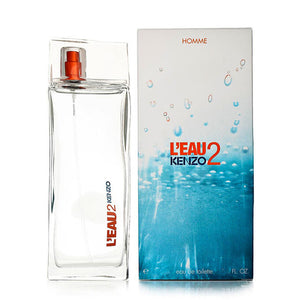 Kenzo L'eau Par 2 Men EDT 高田賢三 - 遇见风之恋纯净之水男士淡香水 50ML
HK$180.00

HK$180.00

Save HK$210
---
---
L'Eau 2 Kenzo pour Homme is a citrusy fragrance signed by perfumer Sonia Constant. Bitter freshness in the top is provided by accords of ginger, grapefruit and bitter orange. Notes of lavender and juniper berry are located in the heart, laid on the woody base of vetiver, cedar and spruce.

Top note: orange, grapefruit, ginger
heart note: juniper berry, lavender.
Base note: spruce, vetiver, cedar.
Kenzo L'eau Par Kenzo 2這款香水是在2012年推出的一款柑橘香型芳香調男性香水。這款香水在推出之初,便憑藉香而不膩的優勢深受廣大男性朋友的喜愛。時至今日,它仍然在香水市場中佔有一席之地。它的前調採用了苦而不澀的苦橙、微辣的生薑花以及香甜的葡萄柚,給人一種溫暖陽光之感。中調是浪漫唯美的薰衣草以及香甜可口的杜松漿果,讓人忍不住想要靠近,是一種鄰家大男孩的感覺。後調是自帶冰涼的雪松,給人一種並肩雪山之巔的奇妙之感。這款香水非常適合白天、晚上以及休閒的時候使用。
前調:橙,葡萄柚,生薑
中調:杜松子,薰衣草
基調:雲杉,香根草,雪松
---
We Also Recommend