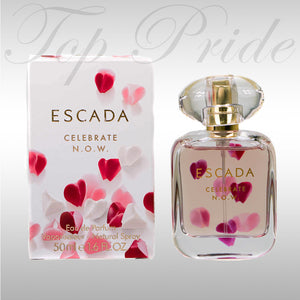 Escada Celebrate N.O.W. EDP 愛斯卡達慶祝女士香水50ml
HK$190.00

HK$190.00

Save HK$460
---
---
Make a Promise to Yourself, Celebrate the Nature Of Women. To smile at the world and see each day as a gift is the natural spirit of women and the inspiration behind Celebrate N.O.W.
An entirely fresh perspective on fragrance, Celebrate N.O.W offers a singular lens on the world through the modern woman's eyes, the ultimate reflection of her positive perspective.
The fragrance, a dynamic fusion of natural accords, builds from a warm base of cinnamon and tonka bean with their lovingly nostalgic and grounding quality. At its heart is blooming magnolia, a time-honored symbol of generosity and perseverance that adds a strong, lavish touch. And its top note is a shot of spicy ginger, an instant stimulant for the senses and the soul.
慶祝女士香水,是一款發佈於2017年的香水。 前調由生薑開啟,清新氣息撲面而來,轉而進入木蘭的主調,帶來迷人混合花香,最後以肉桂,香草,零陵香豆收尾,在肌膚上留下怡人馨香。
香水香調:東方花香調
前調:生薑。
中調:木蘭。 
後調:肉桂,香草,零陵香豆。 
---
We Also Recommend