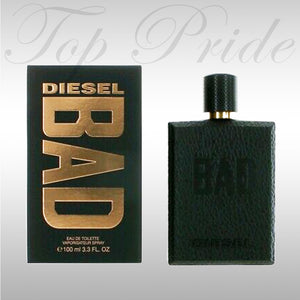 Diesel Bad EDT 迪賽壞男士淡香水100ml
HK$320.00

HK$320.00

Save HK$330
---
---
Diesel BAD evokes brooding virility and a sense of erotic mystery. Covered in a grainy black leather texture, the Diesel BAD bottle has a seductive, masculine look, inspired by the classic black leather biker jacket. A daring and sophisticated olfactive signature, Diesel BAD is the first scent combining accords of tobacco and caviar to create an addictive, pulsating, yet fresh woodiness.
Top notes are Lavender, Bergamot, Cardamom and Violet Leaf;
Middle notes are Caviar, Orris Root and Sage;
Base notes are Woody Notes, Tobacco, Tonka Bean, Ambroxan and Patchouli.
Diesel 迪賽 壞男士淡香水,2016年推出的木質馥奇香調的男士香水,留下經典的壞男人氣息。
香水香調:木質馥奇香調
前調:香檸檬,薰衣草,小豆蔻,紫羅蘭葉。
中調:魚子醬,鳶尾根,鼠尾草。
基調:煙草,木質香,零陵香豆,降龍涎香醚,廣藿香。  
---
We Also Recommend