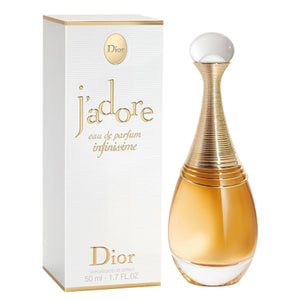 Christian Dior J'adore Infinissime EDP 迪奧真我繆斯女士香水 50ml (瑕疵品 ,噴咀微鬆)
HK$620.00

HK$620.00

Save HK$550
---
---
Defect Goods 瑕疵品
Spray Nozzle is flabby but useable. 噴咀微鬆
Defect Goods are not allowed to return or exchange once order has been fulfilled.
瑕疵品特賣不接受退換貨要求當訂單狀態為完成時。
The J'adore flowers are released and unfurl in a new sensual, powerful and enveloping fragrance: eau de parfum infinissime.
An endless burst of flowers released in a bouquet that diffuses their scent infinitely: notes of Centifolia Rose, Jasmine Sambac, Ylang-Ylang and Grasse Tuberose are refined by the woody accents of a creamy Sandalwood accord.
Familiar yet surprising, like a sensual sister of the sunny J'adore eau de parfum, the fragrance becomes "infinissime," like its infinite trail.
J'adore香水系列又出新猷,仍然以現代女性感性、明豔又迷人的形象為靈感,金絲頸飾帶有古典優雅和高貴氣質,格拉斯晚香玉的芬芳令人悠然神往,猶如一闕對女士美態的頌歌。
香水的核心香調來自格拉斯晚香玉、雙瓣茉莉、依蘭依蘭及五月玫瑰,花匠們需要於破曉時份採摘嬌嫩的花蕾,讓新鮮的花香得以保存,每一滴清新的花香都彌足珍貴。
由DIOR首席調香師弗朗斯.德馬奇 (François Demachy)精心打造,他將晚香玉添至J'adore的香調組合之中,打造一場浪漫的邂逅。他認為動人的晚香玉賦予了香水色彩與光芒,呈現人前,瞬即塑造無比強烈而自信滿滿的女性氣質。
前調清爽酸甜的血橙、佛手柑香氣令人精神一振;中調帶來格拉斯晚香玉、雙瓣茉莉、依蘭依蘭及五月玫瑰的迷人優雅;尾調揉合檀香木的乳香及豐盈魅力,以香氣捕捉女性真實的面貌。
香水盛載於柔美曼妙的瓶身之中,延續了由DIOR先生打造的經典細頸瓶設計,纖長細頸上的金絲頸飾一圈接一圈地舒展,沿著玻璃瓶滑落,嶄新設計自然流暢,宛如華美珠寶。
前調:血橙、佛手柑
中調:格拉斯晚香玉、雙瓣茉莉、依蘭依蘭及五月玫瑰
基調:檀香木 
---
We Also Recommend