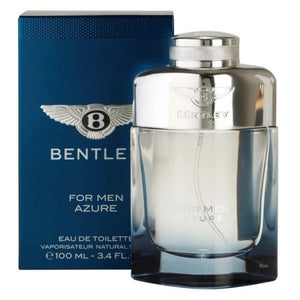 Bentley For Men Azure EDT 賓利碧海藍天男士淡香水 100ml
HK$260.00

HK$260.00

Save HK$530
---
---
These are good times for exclusive perfumes. The British brand icon Bentley Motors gained immediate success with its first fragrance, Bentley For Men. Bentley Fragrances has now developed a fascinating new fragrance composition as an exclusive edition: Bentley For Men Azure.

Bentley for Men Azure makes an immediate impact with a contemporary burst of freshness: the top note is an invigorating, stimulating cocktail of fresh citrus, delicious fruity pineapple and the wonderful herbaceous aroma of violet leaves. It immediately transports you into fresh fields of blue.
2013年,賓利首度推出了第一款高級香水,引起香水界的轟動。2014年,賓利趁勝追擊,再推出第二款香水 BENTLEY AZURE 碧海藍天男士香水。這次的主題是休閒時光的「碧海藍天」。 所以,瓶身從原來的皮革色調變成了藍天色調,而瓶身上 FOR MEN AZURE 銀色字樣,更具格調,也更年輕化。 但一樣是為具世界觀且自信的現代成功男士所設計,因他值得!
 英國奢華轎車的非凡設計,瓶身的線條與幅度和高級的賓利汽車一樣高級,握感非常舒適。 沉甸甸的圓型銀質瓶蓋和金屬瓶肩上的BENTLEY飛翼徽號,更顯高級質感。 外盒包裝精緻,優雅的磨砂藍,BENTLEY 飛翼徽號居中,大方、高雅、氣質非凡之外,更顯年輕。
香調:草香清新調 、 柑橘清新調
前調:佛手柑、檸檬、橘子、菠蘿、紫羅蘭葉
中調:玉桂、茶香、薰衣草、鼠尾草
後調:喀什米爾木、薰草豆、專利配方Orcanox
---
We Also Recommend