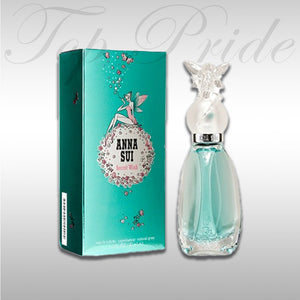 Anna Sui Secret Wish EDT 安娜蘇 - 許願精靈女士淡香水 30ml
HK$140.00

HK$140.00

Save HK$235
---
---
Secret Wish is fairy-like perfume for all those who believe in fairytales. Poetic and very feminine style of American designer Anna Sui reflected in her perfumes. Secret Wish is a pleasing fruity fragrance.

The first notes are fresh and juicy: lemon, melon, tagette, peach, pineapple, and black currant. They are followed by floral accord and elegant woodsy notes of white cedar, sandalwood, amber and musk. Secret wish is a blue-green colored perfume, captured in a transparent bottle with stopper that reminds of Tinkerbell.

The perfume was created by Michel Almairac of Robertet in 2005.
Anna Sui(安娜蘇)許願精靈淡香水魔法的小仙子為妳達成心願! 充滿快樂、希望的香氣,令妳有心想事成的喜悅!

Anna Sui(安娜蘇)許願精靈淡香水混合夏日水果、檸檬、哈蜜瓜及杏仁的清甜香氣,再配上神秘的黑葡萄及性感的麝香氣息。非常適合愛幻想的女生開展新一天噴塗。  

---
We Also Recommend