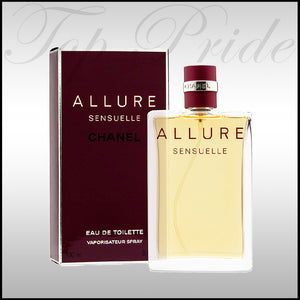 Allure Sensulle EDT 香奈兒 - 感性魅力女士淡香水 100ml
HK$920.00

HK$920.00

Save HK$290
---
---
is a reinterpretation of the iconic Chanel's fragrance Allure, with a soft floral oriental scent. In fact, we are talking about a fragrance that takes inspiration from the moment when the natural allure of a woman meets her passionate and sensual side. This creates a mysterious and intense storyline that developed into this intriguing and magnetic olfactory interpretation. In order to celebrate the complexity and uniqueness of every woman, the Chanel Allure Sensuelle Eau de Toilette unveils differently on each person. Its formula blends harmoniously Rose, Frankincense, and Amber Patchouli.
Top notes: pink pepper, bergamot and mandarin orange;
Heart notes: vetiver, dried fruits, iris, rose, jasmine;
Base notes: patchouli, vanilla, amber, musk, labdanum. 
Allure Sensuelle香奈兒 - 感性魅力女士淡香水是一款2005年推出的東方型花香調的女用香水。 這款香水的調香師是Jacques Polge。
前調 : 廣藿香, 粉色胡椒, 桃, 橘子 和 香檸檬;
中調 : 土耳其玫瑰(薔薇), 保加利亞玫瑰(薔薇), 鳶尾, 茉莉 和 乾果;
基調 : 廣藿香, 香草, 香辛料, 檀木, 香根草, 勞丹脂, 薰衣草 和 琥珀。
---
We Also Recommend