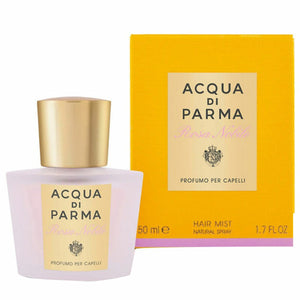 Acqua Di Parma Rosa Nobile Hair Mist 帕爾瑪之水 - 高貴玫瑰頭髮香氛噴霧 50ml
HK$280.00

HK$280.00

Save HK$215
---
---
A new Le Nobili beauty ritual to leave your hair delicately fragranced and make sure you don't go unnoticed.
The delicate, romantic notes of Rosa Nobile, become protagonists of a new fragrant experience: they are released and enhanced with the natural movement of the hair.
The formula, enriched with a conditioning agent, leaves the hair shiny and soft.
Acqua di Parma的Rosa Nobile Hair Mist是一款花香型的女用香水。 這是一款在2019年推出的新香水。 
前調 : 香橙, 胡椒 和 香檸檬; 
中調 : 玫瑰(薔薇), 鈴蘭, 牡丹 和 紫羅蘭(香菫菜);
基調 : 雪松, 龍涎香 和 麝香。
---
We Also Recommend