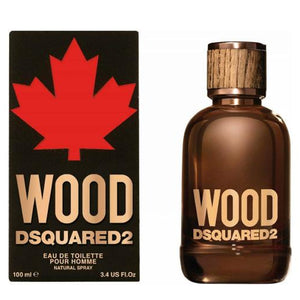 Dsquared2 Wood Pour Homme EDT 天性男士淡香水100ml
HK$430.00

HK$430.00

Save HK$390
---
---
A powerful, distinctive and masculine fragrance, Wood Pour Homme opens with the Mediterranean freshness of Calabrian bergamot, mandarin and Sicilian lemon and is enriched with elegant, sharp notes of ginger. Vibrant heart notes of violet leaf and cardamom contrast with the distinct sensuality of ambrox in the base, where a modern blend of white woods and vetiver rounds out this woody-floral fragrance. 

The bottle has a unique cap that features a magnetic closure and is made of the highest quality ash and created piece by piece, offering a level of craftsmanship that has almost disappeared.

Wood as a material lends an archaic flavour, powerful yet reassuring, while the brilliance and clarity of glass and aluminium enhance the preciousness of the liquid inside.

The flocked packaging is elegant and tactile, in dark brown velvet, and sealed with a maple leaf, the unmistakable symbol of the DSQUARED2 fashion house that is a guarantee of quality, research and innovation.

以滿木深林,原始奔放的設計發想,打造出揮別以往的男女香氛,強勁而結實,具備錯綜卻協調自在的香氛結構,使固有的靈活氣息,不只漫入心弦,更締造了無與倫比的當代男女香氛,富有自信的香氛層次、層層堆疊散發出性感且個性鮮明獨一無二的靈魂氣息。
由地中海的清新氣息為開端,踏著氤氳的薄霧翩然而至的是來自義大利卡拉布里亞島的佛手柑,融合西西里島萊姆構成微風般的清新感。充滿活力的紫羅蘭葉與小荳蔻拌入帶有優雅辛辣的薑味,激盪出完美差異比的中調香氣。最後的尾調融合了白色森林的明亮氣息與幽雅香根草香,與極度性感的龍涎香構成了光線照耀下的璀璨香氣。
前味 : 卡拉布里亞島佛手柑,柑橘,西西里島萊姆
中味 : 薑,小荳蔻,紫羅蘭葉
後味 :香根草,白色森林,龍涎香 
---
We Also Recommend