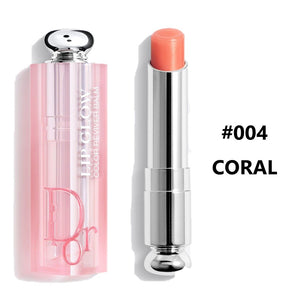 Dior Addict Lip Glow Reviving Lip Balm 迪奥誘惑煥彩潤唇膏 #004 Coral 3.5g 瑕疵品
HK$240.00

HK$240.00

Save HK$100
---
---
Defect Products : Cellophane Damaged, Unused
瑕疵品: 膠膜破損,未用過
The 1st Dior lip balm formulated with 97% natural-origin ingredients that subtly revives the natural color of lips with a custom glow for 6h*** and hydrates lips for 24h.

A new couture case, a unique formula made with natural-origin ingredients infused with cherry oil, and shades to suit all skin tones: the essential Dior Addict Lip Glow lip balm has been reinvented with an as always sensorial texture for lips that are both beautified and protected from dryness.

Multi-use, Dior Addict Lip Glow can be worn on its own as a lip balm or as a primer under lipstick.
首款蘊含97%天然成分的Dior保濕潤唇膏,能低調地煥發唇部的自然健康色澤,締造持久6小時的個人化亮麗光澤,並持續24小時為雙唇保濕。

媲美高級訂製時裝的唇膏外殼設計,獨特配方注入櫻桃油等天然成分,備有適合所有膚色的色調,當中包括以品牌大使Jisoo為靈感而調配的031色調:重新研發的誘惑煥彩潤唇膏質感一如以往地愉悅舒適,有效潤飾櫻唇,告別乾燥感。

多用途的誘惑煥彩潤唇膏可單獨作為有色潤唇膏使用,亦可作為唇部底霜。 
---
We Also Recommend